Welcome to ChicagoFirePatrol.com.
This website is dedicated to the history of the Chicago Fire Insurance Patrol.



To order book please contact chicagofyrpatrol@bellsouth.net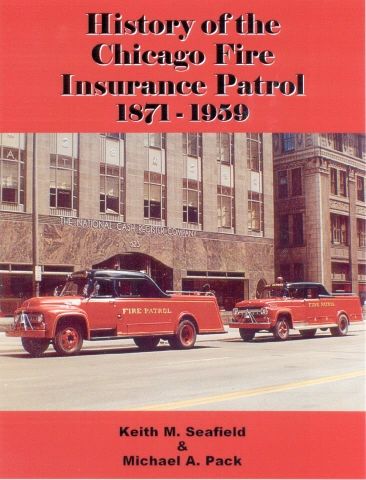 This limited edition hard cover book covers all aspects of the Chicago Fire Insurance Patrol. Topics covered include the Fire Insurance Patrol's stations, vehicles, equipment, Patrol Chiefs, interviews with former Patrolmen, and much more! Foreword by Hal Bruno, columnist from FIREHOUSE Magazine. This book is close to 400 pages and contains over 200 never before published photos with 48 pages of color photos. For ordering information: Please write to Mike Pack at 9123 Marlive Lane, Houston TX 77025 or E-mail us at chicagofyrpatrol@bellsouth.net or visit our Message Board



Here are some links to recent Patrol Truck video's:

              Chief Kempf in the basement of the City Hall
where the Patrol saved many valuable records.


Read more about forgotten Firestations

New book by author Keith Seafield. This is a story about a fire truck: my grandfather's fire truck and it's sixty year existence. Follow its construction and delivery to the Chicago Fire Insurance Patrol, its nearly thirty year run in the fire service and finally , how it came into my possession thirty-two years after my grandfather's death. The 128 page hard cover book will be printed soon. It is priced at $30 + $3 shipping. Please email me at at chicagofyrpatrol@bellsouth.net if you would like own a copy. If you enjoyed my first book, you will be just as thrilled with my new one. Thanks for your support!!!


The History of the Chicago Fire Insurance Patrol is dedicated to the memory of my grandfather Captain Michael Kinsch.

Patrol 2 Captain Michael Kinsch and crew at staging area for a Fire Prevention parade.
Photo courtesy of Ken Little.


Captain Frank Tinney of Patrol 1 directs Patrolman Ray Redick in his salvage duties.




Note the amber light on the roof of Patrol 2's 1954 Ford.
This light would illuminate when a call came over the vehicles radiophone.
(Photo Courtesy of Ken Little)





Training room at Patrol 5's quarters displaying
various types of sprinkler standpipe systems.







Chicago Fire Insurance Patrol
Committe



Chicago Fire Patrol
(Captain)



Patrol uniform jacket button



Patrol Bell
Note the letters "FIP" cast into it







Eastland disaster

Fighter Taps Into Firefighter History